Solar panels would be installed on the roofs of business buildings to make them self-sufficient, and we will have a volunteer clean-up crew to rid the streets and parks of litter.
Windmills will be placed throughout the community, generating energy for street-side lights. I would clean-up the town by telling everyone to stop polluting and to stop throwing garbage in the roads and fields.
By putting more recycling containers around the city, we could alleviate much of the trash thrown along the roads. I feel these three priorities would help restore Plymouth.
I would also do the best of my ability to fix the small problems that could turn into large problems. I would strive to create a prosperous economy. If I were mayor, I would make our community a better place to live. I would tell the kids to never throw away their dreams.
There are many roads in Plymouth that are dangerous because drivers are trying to avoid hitting potholes. I need your help and inspiration, and most of all, your opinion.
A few weeks ago Plymouth Mayor Mark Senter met with the 6th graders and discussed his job duties, responsibilities and the various city departments under his control. They fall because they are broken.
They happen way too often, so we should work to fix them. Educating the public about going green will help our environment for future generations.
I want people to be able to come to Plymouth to have fun and not get bored and want to leave right away. He toured several of the city departments and was even treated to lunch. This entry was posted on May 24, at 4: Although the cost seems high, it would surely reduce electricity prices.
After that, I would try to get better homes for abused animals. Our schools would be able to support sports, arts, and entertainment. I would try to improve and renew these fields.
The windmills would produce more than enough electricity for the street-side lights, and with the re-landscaped parks would be more attractive. I would make a big fenced in doggy park with toys, so dogs can be let of leashes at the park and meet other dogs.
Together, we can contribute to our community. We would probably go to the park and plant new trees. In conclusion, as mayor I would do the best of my ability to solve community problems, and be someone people could always go to. Please consider the offer which I propose to our beautiful town of Plymouth, Indiana.
These problems would be similar to something such as littering on the side of a road. You can follow any responses to this entry through the RSS 2.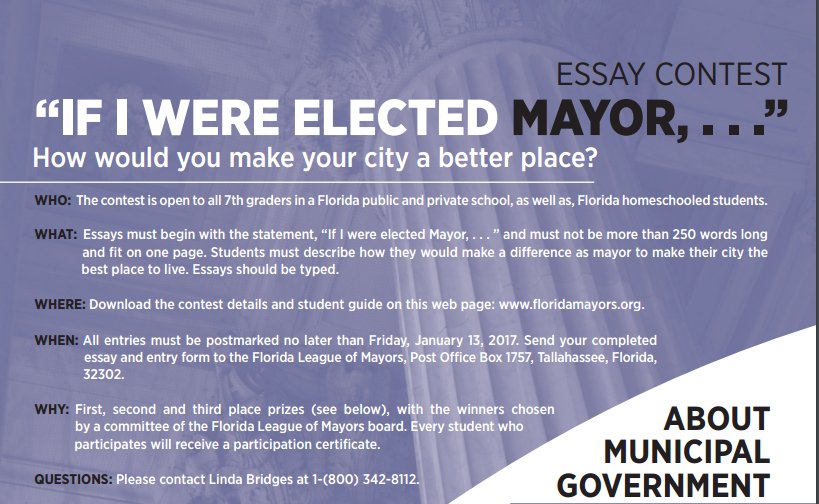 I know if I was a dog I would want to go to the park and play on a nice day. It is heavily traveled during the mornings and mid-afternoon.
An example of this is Baker Street. I would try to have fundraisers to get money for new equipment for the parks and the schools. If there was a way to start new businesses or get more jobs out, I would.
Parks will also be re-landscaped and new sidewalks would be put in so people could walk safely. The Plymouth Junior Football League needs their own field.The contest, sponsored by the Valdosta Youth Council, gives 6th-grade students—from public, private or homeschools—a chance to creatively use grade-specific language arts skills and civics knowledge to express, in words or less, how they would make a difference if they were elected to the position of Mayor.
Eighth Grade Essay Contest. (NYCOM) is inviting all eighth grade students currently enrolled in a school located in a city or village in New York State to participate in NYCOM's second annual essay contest addressing the topic, "If I Were Mayor, I Would ." Award Winners.
The essay winners are announced during City Government Week which is held in April each year. The essay winners will receive a $ prize from the League and the winning essay will also be published in the League's magazine, CITYScan.
If I Were Mayor Essay Contest Winners. Mayor's Essay Contest About the Contest. Each year, MML and the Maryland Mayors' Association (MMA) invite 4th grade students throughout Maryland to participate in a statewide essay contest: "If I Were Mayor, I Would " The contest gives students a chance to creatively use grade-specific language arts skills and civics / social studies.
Jan 29,  · contest to share your thoughts in an essay "If I were Mayor, I would " that could win you and your family a trip to Saratoga Springs and money!
Last year's contest was so successful. After 15 years and some 90, essays, GMA has discontinued the statewide "If I Were Mayor, I Would" essay contest for 6th graders. Cities, however, are encouraged to hold their own local contests.
Download
If i were mayor i would essay contest
Rated
4
/5 based on
13
review